Whipped cream is a delicious and healthy treat, both at home or any classic restaurant.  Whipped cream refers to an aerated emulsion of cream with fat where the percentage of fat in cream is 35%.   In contrast to the relishing feeling it provides to the taster with merely a single scoop, it is quite easy to prepare and uses few and readily available ingredients. Its preparation generally takes time of 5 minutes only. But few techniques and equipment have been able to reduce the time to a minor 30 seconds. So, what are you waiting for!
During the process of whipping, fat molecules present in cream cohere forming a stabilized emulsion, enabling the entrapping of air. Hence the resultant colloid is actually twice in volume as compared to actual cream. There are many procedures including homemade techniques to prepare whipped cream, differing from each other mainly with respect to the equipment chosen and flavors added to the creamy mix.
Some popular flavors used with whipped cream are vanilla, coffe, orange and chocolate. The basic ingredients are cream and sugar in all methods of preparation. The secret of making the best whipped cream is to stop mixing at the most accurate time when soft peaks can be observed. Making whipped cream became very easy after the invention of centrifugation technique in the 19th century. Whipped cream is also known as snow cream. It is available in various versions like classic whipped cream and flavored whipped cream.
First method:
Ingredients
1 cup milk or heavy cream
¼ cup of Cold water
Vanilla essence or other flavors
1 tablespoon of icing sugar
Equipments and materials required
Saucepan
Mixing bowl
Fork
Whisk
Hand blender or electric blender
Refrigerator
Directions
Step 1: Keep the bowl in freezer for 15 minutes before preparation. The colder the cream is, easier is the whipping process. It is best to whip the cream as soon as it is taken out of the refrigerator. Hence the bowl is also chilled for best results.
Step 2: Pour water into saucepan
Step 3: Pour cream into chilled bowl. Then add 1or 2 tablespoons of icing sugar into it.
Step 4:  Operate a hand mixer to generate gentle swirls in the cream mixture. Alternately, blend using an electric blender. After one minute it becomes creamy. Check for desired consistency. Gradually, the cream will have a solid texture. Whipping should be stopped at that point. Mix the mixture very well with a spoon.
Step 5: Add vanilla essence and stir well so that it gets well absorbed into the mix.
Step 6: Put in a refrigerator for 5 minutes.
Second method:
Ingredients
1 cup milk or heavy cream
1 teaspoonful of vanilla
Other desired flavors(mint, chocolate)
Sweeteners like sucralose
1 tablespoon of icing sugar
Equipments and materials required
Saucepan
Mixing bowl
Whisk or beater
Hand blender or electric blender
Refrigerator
Directions:
Step 1: Take a mixing bowl and pour in it cold heavy cream or milk. Prefer not to use ultra-pasteurized milk, as it is harder to whip. In case one has to use ultra-pasteurized milk, a metal bowl is to be used. One needs to put the milk, bowl and beaters in chilled state prior to starting the preparation.
Step 2: For one cup of cream, it is advisable to add 1 to teaspoonful of vanilla extract. Other sugar free sweeteners like sucralose might be an option too. One may also try mint or chocolate flavor additions
Step 2: Whisk the cream well with the help of electric blender or hand blender. Set the electric blender at low initial pace to moderate creaming and avoid splashing.
Step 3: Gradually, observe the cream get the attractive constitution and thickness as desired. At this point one needs to raise the operating speed of the blender. The cream begins to look foamy now and assumes a peak at the upper side. Stop the mixing or blending operation at this point.
After a few hours of preparation, whipped cream may start losing its pasty constitution. In case this happens, one needs to mix to reset the constitution. It can be consumed after one day or two. Whipped fat traps air bubbles inside and henceforth higher the butterfat present in cream, better the cream prepared by the process.
Third method
 This is the swiftest method for preparing whipped cream. It is done with the help of only a bowl and an immersion blender.
Ingredients
1 cup milk or heavy cream
Powdered sugar
Equipment and materials required
Mixing bowl
Immersion blender
Directions
Step 1: Mix together heavy cream and powdered sugar in a bowl.
Step 2: Then use an immersion blender for 15-30 seconds. Continue to blend so that the cream gets mixed and gradually a soft peak is formed. Serve immediately.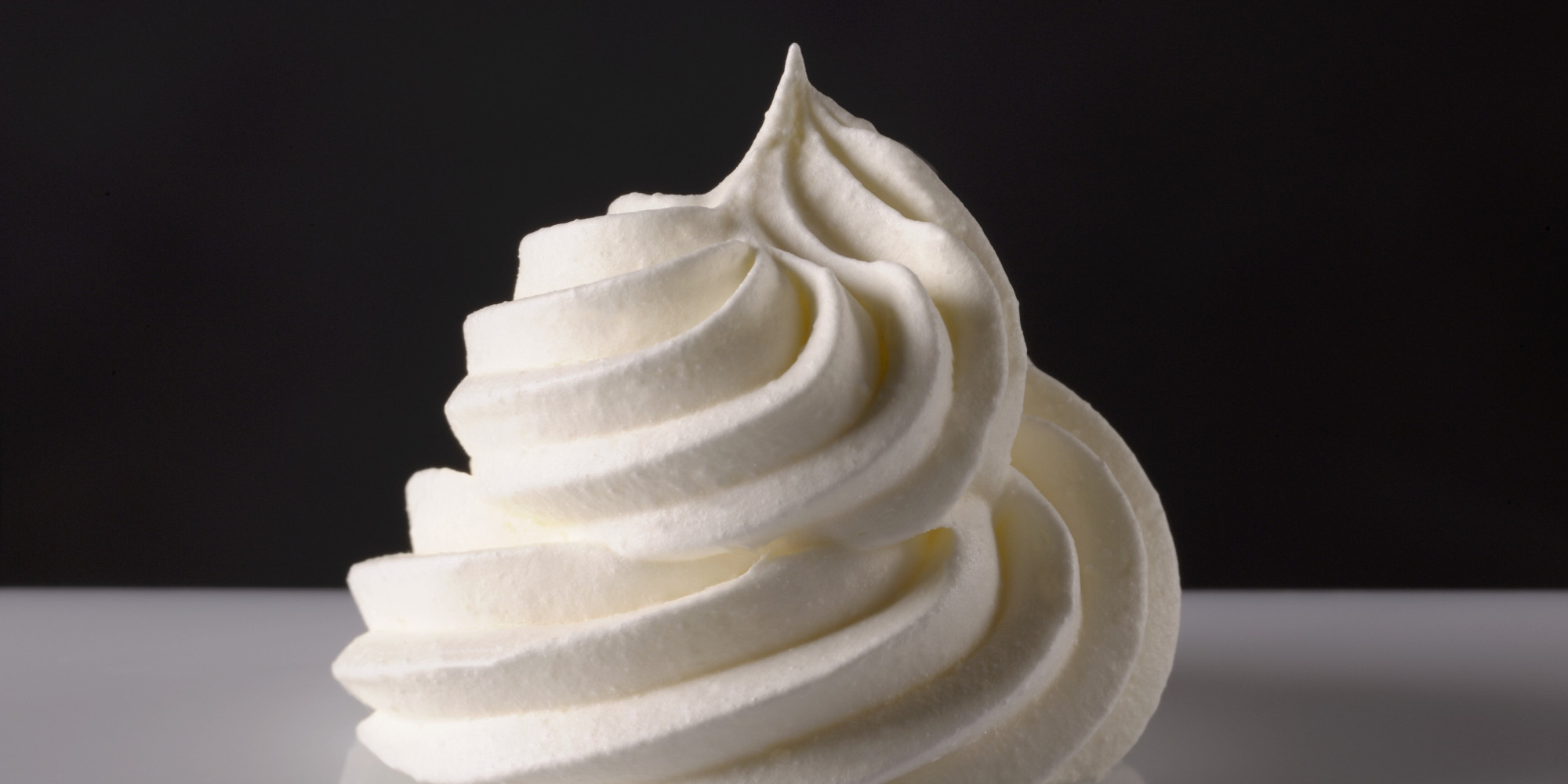 Fourth method
In this method cream is first refrigerated and then mashed in a bowl. During the mashing phase, its volume increases and the formation of soft peaks can be seen. Then sugar or vanilla flavors are added to it.
Ingredients
1 cup milk or heavy cream
Vanilla essence or other flavors
1 tablespoon of icing sugar
Equipment and materials required
Mixing bowl
Whisk
Hand blender or electric blender
Refrigerator
 Procedure
Step 1: At first, freeze the cream for a minimum period of 2 hours, so that it attains a chilled state, which is required for whipping.
Step 2: Put the chilled cream in a bowl and mash it so that its volume expands to double of the initial value and formation of soft peaks might be observed.
Step 3: Pour in the sugar and vanilla essence to the cream.
Step 4: Serve with dessert or alternatively use it to garnish your favorite meal.
Fifth method:
Whipped cream may be prepared in a whipping siphon, with the help of nitrous oxide gas. The resulting whipped cream has a sour taste. The siphon has cartridges, which are replaceable. Nitrous oxide gas dissolves in butter fat due to pressure. This leads to production of bubbles and hence whipped cream.
Tips
Higher fat cream is preferred as it produces more stable foam.
Whipping is to be done quickly so that the consistency of the cream could be changed from heavy liquid to light fluffy substance.
Whipping should not be continued for a very long time. Else the fat droplets will stick and destroy the colloidal nature of the mix and form butter instead.
The process of whipping needs practice. Care must be taken to ensure that the cream does not get warmed up too much due to agitation.
Latest posts by Sudipta Nandy (see all)